Kinky Classes Offered by Graydancer
Like to have Graydancer teach?
Here's a general overview of some of the classes I currently offer. If you're looking for my "official bio," click here.
Please note that the classes are not specific to rope; while that is my preferred medium, and I can certainly teach basic through advanced rope bondage techniques, I prefer to help the larger kink and leather community with concepts and methods that are universally applicable.
Private lessons are also available, for a variety of kink-related activities including impact play, full-contact D/s, sensation play, role play, and of course rope bondage skills. Contact me to discuss what you might be interested in.
Need an MC or Keynote Speaker for your event? I've given keynotes and acted as an MC for several events around the country. I'm an experienced public speaker and performer, and can tailor my work to the needs of the venue and audience. For an example of a keynote I gave, see the writeup of the Austin Ropecraft Symposium (warning: some nudity).
CLASSES
Rope Bondage: You Name It, I'll Teach It
That's not actually the name of a class, it's an offer. In ten years of public play and many more in private, I have developed a great deal of practical knowledge of rope bondage. Four years of the Ropecast (an online internet show about kink & rope bondage) has put me in touch with the most interesting, educated and skilled kinksters out there, and when combined with decades of performing, teaching, and presenting experience, I can confidently say that I can present on just about any rope topic you would like.
While I don't claim to be the arbiter of all things rope, I have developed classes ranging from 101-level "how to coil your rope" to advanced suspension and rope scene dynamics. One difference in my classes is that I co-present with my demo model, paying equal (if not more) attention to the bottom's perspective and skills as the top. I also pay a lot of attention to the interpersonal dynamics of rope scenes, whether putting on a single-limb cuff or creating Calder mobile of willingly bound flesh. If there is a rope topic you'd like covered, please let me know, I can customize classes, demos and performances particular to your event. An example would be Cleveland's "Kinko de Mayo" event, which asked me to present a class on "Take downs and Hog Ties." Other times I've been asked to fill in on various classes for other presenters on everything from arm binders to speed bondage techniques to bondage burlesque.
Let me know how I can help round out your event's rope curriculum!
Cigar Play
Cigars have a rich tradition in the leather community, and are packed full of history and ritual and a depth of sensation that makes them perfect for kinky play. Whether you're into the fear of a cherry-red hot tip hovering near skin, or the literal breathless abandon of sharing a smokerise with your lover, Graydancer will help introduce and explore with you the lush experience of a good cigar scene. Learn both the safe and the spectacular tricks of good cigar topping as well as how to enjoy the service and submission that can be found in a nice tight ash. This class focuses on the play part of cigar play, and leaves the esoteric labels to the google-fu of the participants.
"…thank you for your amazing class at Fusion. You have brought some excellent ideas and teachings to light, that a service provider like me, truly appreciates." – Cami_Lucida

Rope & Cigar Play
When you combine cigars with the potential of rope bondage you have a truly unforgettable experience. Graydancer combines his love of the leaf with his passion for rope to introduce and explore the lush experience of a good rope/cigar scene. Learn specific techniques for tying your partner in ways that highlight the ritual, power, and sensation of cigar play, as well as the extra safety considerations that rope adds to kinky play. Explicitly demonstrated by Gray and his partner, you will be encouraged to participate with your own exploration of the dance of rope and ash. This class focuses on the "play" part of cigar play and leaves the esoteric labels to the google-fu of the participants. You are encouraged to bring your own cigars for yourself and for the joy of sharing, but it's not a requirement – solo, couple, or multiple partners are all welcome to enjoy the atmosphere of knotty smoke!
TIE 'EM UP & FUCK 'EM: Rope Bondage for the Impatiently Kinky
"I don't do rope; it takes too long!" It's a common refrain heard from people all over. This class aims to dispel that myth, with practical, speedy, and above all erotic techniques to bring rope into your kink. Fast body harnesses to improve your fucklife, methods of handling rope in a sensually effective way, and ideas for to keeping a scene hot from the first wrap to the last tangled ropegasm on the floor. Graydancer, host of the long-running Ropecast on the internet will share all the Great Secrets of Rope in his irreverent and engaging style. Whether you're an experienced rigger, just took Basic Bondage, or are just curious about this whole "rope" thing,  this class will have something in it to help you tie or be tied.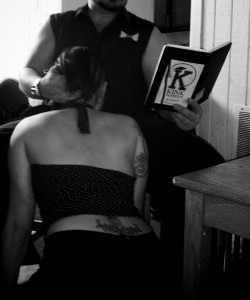 The Art of Receiving Blowjobs Gracefully
There are many classes on how to give blowjobs – but what about receiving them? This hands-on (so to speak) lecture/demonstration illustrates the ways the person with the cock can better communicate, interact, and accommodate their partner rather than just lying there. From negotiating deep-throating to safer sex negotiation to the money shot, this class covers the other side of the blowjob in specific and graphic detail.
KinkBusters: Questioning our Assumptions about Kink
Always carry safety shears. Never put rope around the neck. Don't flog the kidneys. Real riggers rig barefoot. The kink world is full of tropes and customs that have moved into the realm of dogma. Graydancer takes a look at these conventions and asks "Why?" Some of these may have real reasons behind them, but others may not only be false, they may be dangerous. Take a look at the reality behind the "safe" techniques through a "MythBusters"-style presentation and increase your risk awareness. Playing near the edge means knowing which rules to break and when to break them.
The Defining Moment: Getting What You Want Out of Kink
This class is a practical, step by step guide to fully realizing your kinky self. Starting from fantasy, Graydancer takes you through a process that gets you to that defining moment, the ineffable feeling of fulfillment when that fantasy is made real. Along the way you will also learn tools of risk-management, figuring out what aftercare is needed, and most of all answering the most important question: How can we do that again?
Whether you're into rope, leather, chains, or fuzzy bunny suits, the Defining Moment can offer you tools to take your play to a more visceral level, from a place of internal motivation rather than external. What do you want to DO? Rather than start with what you saw in a picture or book, let's focus on the results you want. Whether you want to play for sex, for pretty, for pain, or some combination, the focus will be on how to DO what you want to do, using principles rather than step-by-step processes. It's an interactive class with plenty of class participation, and demonstrations. The skill level of this class is appropriate for anyone from the rank beginner to intermediate and advanced, because of its focus on practical skills and principles-based instruction. This has been one of Graydancer's most popular classes at venue after venue because of its value to kinksters of all levels and interests.
APOCALYPTAKINK: What Would YOU Do?
Modeled after the EMT Certification Practical Test, this class will present several role-playing bondage scenarios with "problems." Various class members will be given the opportunity to role-play their reactions and solutions to the problems, followed by constructive discussion by the entire class facilitated by Graydancer. The goal is to provide a more visceral experience for tops and bottoms to identify potential issues in rope bondage and creatively develop strategies for solving them. Entertaining and often surprising, this class provides attendees with new insights into their own kink abilities.
Knot So Fast: Rope as a means, not an end.

This is a class for rope tops and bottoms to learn how to use rope bondage not as an end unto itself but rather a vehicle into transcendent scenes and intense connection. It's a combination of practical rope handling techniques to get the rope out of the way and speed bondage to get from point A to point O faster. Learn how to be more present and graceful in your rope bondage on the top and the bottom and have that mind-blowing scene you've wanted.
Basic Suspension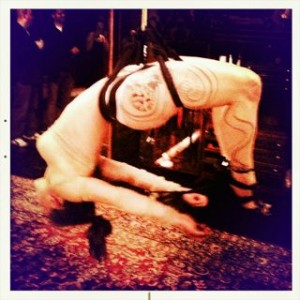 One of the many thrilling ways to play with rope lies in the realm of suspension – taking away not only the movement of the bottom, but even their connection to the earth. At the same time, suspension can be very dangerous, and there are many safety concerns to be dealt with long before the rope ever touches the body.In this class, Graydancer will explain the various aspects of creating a suspension scene – hard points, hardware, rope choice, basic knots, safety concerns, and more. He will also teach a basic hip harness and chest harness that can be used for a safe and relatively comfortable horizontal face-up suspension. Depending on class time and size, this may be a hands-on class, or it may be restricted to a demo. However, Graydancer will also be available later in the event for "office hours" for more one-on-one coaching on what was learned in the class.
Intermediate Suspension
Continuing from where the basic suspension class leaves off, Graydancer will explore the physiology of suspension, and how that affects strategies of rigging for other kinds, such as face down, sideways, and inversions. Alternative harnesses and hardware such as swivels will be discussed, as well as some talk about "Ok, the bottom's up…Now what?" Depending on class size and time, this will be a combination hands-on/demo, with the conclusion being a fast Japanese-inspired rope suspension performance.
Beating in Tongues: D/s Play with other languages.
Do you and/or your partner speak another language? From Latin to Klingon to Russian, using language – or the lack thereof – as part of your kinky play can be an amazing stimulation to the biggest sexual organ: the brain. Graydancer will discuss several different scenarios, including humiliation play, "verbal bondage," literary D/s, role-playing and more. Interactive demonstrations will be part of the class, beginning to end. You don't have to be bi, lingual or otherwise, to get some kinky inspiration for your next hot scene.
Full-contact Dom
A combination of dance and martial arts, this class focuses on methods of maintaining and utilizing a physical connection between the top and the bottom. Whether you're focusing on takedowns or sensual rope, using full-contact and focusing techniques can increase the enjoyment of any scene. Remember, if you're not cheatin', you ain't tryin'.
Military Style Bondage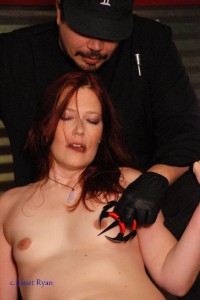 Military-style bondage draws from the traditions of the samurai, the cavalry, the native Americans, special forces, and even various fictional sources to explore the fun of role-play in a Military style. Explore not only the physical forms of restraint and the reasoning behind them (including how to modify them for the safety and comfort of your "prisoner") but also the psychological aspects of military discipline, interrogation techniques, and especially the methods of securing and manipulating the male body.
Fetish Performance Techniques
Let's face it, some of us do rope not for the hot sexy flesh andcords, but because it looks COOL! This class will start with a demonstration of how NOT to stage a bondage performance (whether with rope or other toys). We'll then discuss the aspects of performance that can apply to the art of fetish and bondage, using examples and workshopping it with participants. The class will close with an example of what Graydancer considers to be adequate performance technique, with the demonstrative help of his Filthy Assistant.
HOT & KINKY: Lessons Learned on the Perv Road
Join Graydancer for a lighthearted and educational look at the why's what's, and how's of kink. Drawing on years of experience as a kinkster and educator, Graydancer explores the key rules that help kinky people get the most out of their experience. How do we play on the feelings and turn them up to 11? Topics covered include things like the flow of a kinky scene,  planning, negotiation, how to deal with the things that go differently than expected, and how to adjust and go with changes in emotion, intent, and energy. It'll all be in the context of "hot & kinky," with hot demonstrations, laughter, and a guarantee you'll come out of it wanting to get down and dirty!
TwoPlay: The Art of Making Out
Rediscover the lost art of the backseat, the front porch, the stolen moments in the coat room. This is a class to rekindle the pleasures of first and second base, to explore and develop the skills that charge those make-out sessions with romantic connections that last a lifetime. Topics range from practical tips on kissing to the Ancient Kama Sutra Secrets of the Grope and cultivating the attitude of erotic anticipation that leads to That Great Kiss. Step by step, each skill building on the next, by the end you'll be full of ideas of how to make making out outstanding. Please bring a practice partner, all genders & orientations welcome. This class has also been featured on the Kink Academy website.